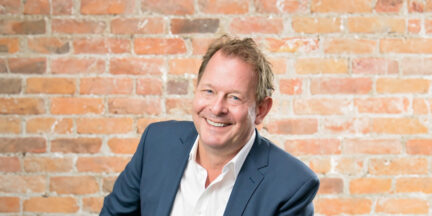 John Schmid Of Propark Mobility On The Labor Shortage & The 5 Things We Must Do To Attract & Retain Great Talent
Originally published by Authority Magazine on 7/27/22
The pandemic has allowed people to reevaluate what they want from work. This "Great Reevaluation" has led to the "Great Resignation" which has left the US with a great big labor shortage and a supply chain crisis. What can we do to reverse this trend? What can be done to attract great talent to companies looking to hire? What must companies do to retain their great talent? If not just a paycheck, what else are employees looking for? In this interview series called "The Labor Shortage & The 5 Things We Must Do To Attract & Retain Great Talent" we are talking to successful business leaders who can share stories and ideas from their experiences that can address these questions.
As a part of this interview series, we had the pleasure to interview John Schmid.
John Schmid, CEO, and Chairman of Propark Mobility is a parking industry leader known for spearheading forward-thinking initiatives, like the green parking movement. Since founding Propark in 1984, John has led the company's growth, transforming the small, Hartford, Conn.-based business into one of the largest privately owned parking companies in the country. When he's not pursuing new endeavors in the industry, John enjoys time with his wife, Betsy; their children, Hayley and Evan; and their four dogs: Moon, Ruby, Maebe, and Sage.
Thank you so much for joining us in this interview series! Our readers would like to get an idea of who you are and where you came from. Can you tell us a bit about your background? Where do you come from? What are the life experiences that most shaped your current self?
Born and raised in Connecticut, I began my career as a stockbroker in 1982. Working in a Hartford office building, I'd park my car in the garage every day. I eventually got curious about the parking operation and investigated. That led me to establish a relationship with the parking manager and then we struck up a deal: If I worked in the garage one night a week, he'd waive the parking fee. I ended up enjoying the work and that experience stayed with me.
A few years later, I was driven to pursue some entrepreneurial ideas I'd had and my friend, Joe, and I went into business together. Along with my wife, Betsy, we bought a 60-space parking lot in downtown Hartford and set to work to make it the best parking location in the city. Every day, we took care of maintenance, valeted cars, and provided customer service. We started our business by working in the field. Because of that, we have a true understanding of what it takes to succeed in this industry.
As we grew Propark, it also informed the way we ran the company. Today, when we visit a site and talk to one of our team members, we have that mutual understanding of each other because we've done the same job. That's something very unique to Propark. It's part of why we're so passionate about investing in our employees and promoting from within. If Joe and I, as two young guys, could work our way up the ladder, we know others can too. We want to give them that opportunity.
Let's jump right in. Some experts have warned of the "Great Resignation" as early as the 1980s and yet so many companies seem to have been completely unprepared when it finally happened. What do you think employers have to do to adapt to this new reality?
In today's world, I believe the most important thing for employers to do is view their employees holistically. The pandemic showed us that life is unpredictable, and a lot of things are out of our control. That's inspired us to take control of the things we do have power over. For many, that's meant reevaluating their lives and realizing what they do and do not want out of their life experiences — career included.
People want a rewarding work life where they feel seen, understood, and appreciated. When employers view employees holistically, you recognize them for who they are as individuals, not just what they can do for the company. You're caring about your employees as people — people with families, hobbies, and goals — and you're helping them grow in their professional lives, which often carries over into their personal lives.
Based on your opinion and experience, what do you think were the main pain points that caused the great resignation? Why is so much of the workforce unhappy?
I think the ultimate tipping point was the pandemic. Until now, companies have tended to focus on the bottom line, assessing employees for the ways they'll help the company achieve its strategic goals. While that focus is obviously critical to a company's success, it's left little room for employers to understand employees beyond the confines of the office. That can lead to a disconnect and potential unhappiness, rather than good faith and loyalty.
When we suddenly faced such an unpredictable threat, we all started to reevaluate our lives and reprioritize what's most important to us. For most, that took the form of focusing on family and loved ones rather than on careers and the work they do for employers. The priorities and goals of employees shifted and, if companies didn't shift with them, employees were more likely to leave and pursue opportunities at other places.
I am fond of saying, "If it's fun they charge admission. But you get a paycheck for working here." Obviously, I am being facetious, but not entirely. Every job has its frustrations and there will be times when every job will aggravate employees. How important is it that employees enjoy their jobs?
It's incredibly important for employees to enjoy their jobs. When they enjoy their jobs, they view their eight-hour workday as an opportunity rather than an obligation. It becomes an opportunity to do something they're passionate about, contribute to a vision they believe in, and do all of that besides people they enjoy spending 40+ hours with every week.
Happy employees are more motivated to work harder. When they feel seen and appreciated — both for their contributions and who they are as individuals — they view their employers and their jobs in a positive light. That positivity ultimately impacts other areas of their lives. While no job is without its frustrations, employers can take steps to invest in the company culture so benefits far outweigh minor troubles.
At Propark, we've always strived to cultivate a culture of fun. Since the beginning, it's been something that's very important to me. I want every member of our team to come into work each day feeling happy and truly loving what they do. To make that a reality, we try to inject fun wherever we can. At our corporate office, that takes the form of day-long Christmas parties or the installation of a shuffleboard table in our community greenhouse space. In the field, managers celebrate birthdays and treat their teams to lunches. When that passion for fun starts at the top, it permeates every division across the country and establishes the tone of the company.
How do you think an unhappy workforce will impact a) company productivity b) company profitability c) and employee health and wellbeing?
When employees are happy and like their employers, they're motivated to work harder because they believe in the company's mission and the meaning behind their work. If they're unhappy, that motivation is harder to find, and every day becomes more challenging. That unhappiness can negatively impact their personal lives and overall wellbeing and, ultimately, lead to burnout.
Burnout lowers employees' motivation to do their best work and meaningfully contribute to the company. They tend to keep to themselves instead of building camaraderie with their peers, which leads to less collaboration. Between the lack of collaboration and decreased employee motivation, companies' productivity is compromised. And, if work isn't getting done effectively, the company and its profitability are negatively affected.
What are a few things that employers, managers, and executives can do to ensure that workers enjoy their jobs?
When Propark started, we were really focused on doing our best in this industry and having fun while doing it. That's a sentiment we've worked very hard to carry with us for the last 38 years. Along the way, we've learned that positive reinforcement and incentivization have a marked impact on employees' well-being and the overall company culture.
One of the most important things for us has been to hire talented people and get them in the right positions — positions that complement their strengths. Once they're in the right role, it's crucial to make sure they feel supported. Companies can't accomplish their goals on their own; it's a team effort that relies on mutual support. That support needs to start with leadership at the top. Then, it trickles down and positively impacts employees and the overall company culture. It makes teams feel empowered, which inspires them to do their best work, day in and day out, and meaningfully contribute to the company and its goals.
Since the start of the pandemic, one of the most important things has been establishing flexibility as the world continues to shift. For Propark, that meant letting our team do what was best for them and their families. For instance, we've implemented work-from-home and hybrid options for people in positions that can be done remotely. We feel that when we take those steps to do good by and invest in our team, they're empowered to invest in us and do their best work.
Can you share a few things that employers, managers, and executives should be doing to improve their companies' work culture?
One of the most important things employers, managers, and executives should be doing is investing in their employees and their well-being. That means offering sufficient PTO and good benefits, as well as providing opportunities for career growth and professional development. Taking these steps to invest in employees ultimately benefits the company, as well, by motivating employees to do their best work and develop new skills that they can utilize within their positions.
It's also important to establish a company environment rooted in fun and positive reinforcement. For Propark, we've established our Circle of Excellence program to celebrate employees' accomplishments. Each month, leaders throughout the company nominate team members who have gone above and beyond in their roles. From the list of nominees, our HR department selects two Rock Stars of the Month and two Leaders of the Month. During our monthly leadership calls with the executive team, we hold an awards ceremony for these employees and highlight the incredible work they're doing. This gives our C-level executives the opportunity to personally congratulate our team in the field. We're striving to establish clear lines of communication throughout every level of the company in order to make sure our executives always remain approachable.
Okay, wonderful. Here is the main question of our interview. What are your "5 things employers should do to attract and retain top talent during the labor shortage?"
Remain flexible. The world is changing, and we have to change with it if we want to continue to succeed. That means remaining flexible and agile, not simply relying on what's worked best in the past. We started Propark in 1984 when the world looked very different. We've had to grow and adapt over the years, whether that was utilizing technology to enhance operations or adjusting to the lifestyle changes brought about by the pandemic. When you're willing to work with your employees and remain flexible, you're helping them do their best work. That, in return, benefits the company.
Offer upward mobility opportunities. Everyone wants to know that their work is meaningful and can lead them to greater success. We want to develop as individuals, both in our careers and our personal lives, and accomplish our goals. To facilitate that, employers need to ensure their employees have opportunities for upward mobility, or career advancement, within the company. You want to bring them on board with the promise of growth and career longevity. At Propark, we're passionate about helping people achieve their career goals. We recognize the talented people on our team, promote them from within, and invest in their long-term success. Today, we have regional leaders who began as valets 10 years ago. The promise of that kind of growth is key when trying to retain employees.
Implement an incentive-based culture. We've learned, over the years, that employees are motivated to do their best work when that work is recognized, celebrated, and rewarded. We've implemented programs designed to reward leaders not only for doing good work but for being good to their team and celebrating their accomplishments. This creates a cycle of positivity, where good people celebrate good people. That seeps into every aspect of the business, creating a culture of appreciation and fostering an environment where people are passionate about their jobs and feel motivated to work hard every day.
Show employee appreciation. Employees are the backbone of any organization. They collectively work to help you and your company achieve strategic goals. It's not enough to simply expect great work from them; there needs to be reciprocity. They do good work for you, and you do good by them. That means taking active steps, like implementing reward programs and recognition ceremonies, to show that you see and appreciate how hard they're working.
Establish a sense of ownership at every level. When my partner, Joe, and I started Propark in 1984, we were passionate about our work because it was our company. We were in charge; all of the responsibility fell on us. If lines needed to be painted in the lots, if operations needed to be staffed if something went awry, it was all on us because it was our business. Ownership inspired us to work hard. That's a concept that's stuck with me over the years. When people feel a sense of ownership over their work, they're more motivated to do good work. We've developed this idea into our 2.0 Shareholder Program. We provide opportunities for our company leaders to become shareholders in the company. As a result, we're not only offering them career advancement but the opportunity to participate in the advancement of the entire company. So, when they succeed, the company succeeds, and they take part in that. Once again, it establishes a cycle of positive reinforcement that impacts employees at every level.
Thank you for these fantastic insights. We greatly appreciate the time you spent on this. We wish you continued success and good health.