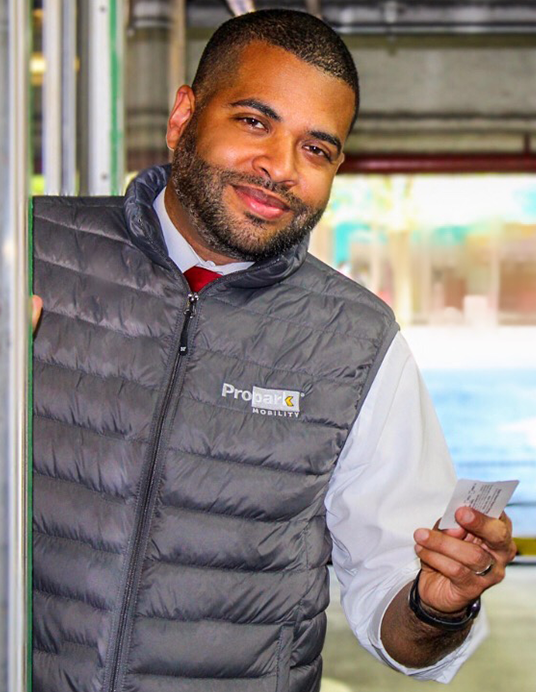 Jersey City Valet Parking Services & More
Founded in 1984, Propark Mobility has offered valet services and parking management services in Jersey City for more than three decades. With numerous locations across the city, Propark aims to provide residents and visitors with the most convenient and affordable parking options.
Propark Mobility serves high-end residential properties in Jersey City, offering the leading parking management services, including shuttle and valet services. At locations such as the Madox Apartments, The Morgan, and The Beacon, Propark's highly trained shuttle drivers provide reliable and efficient rides, while our experienced valets welcome residents home with a smile. To further enhance the parking experience for all residents and effectively streamline operations, Propark also implements the latest technology, like License Plate Recognition (LPR).
Within Jersey City's hospitality industry, Propark offers valet services and parking management services that simplify parking for guests throughout their stay. Trained by former luxury hotel managers, our knowledgeable valets provide the highest quality service at hotels, including Canopy by Hilton Jersey City, to ensure guest satisfaction from the moment they arrive to the moment they depart.
Experts in parking management for Class A office buildings, Propark is not only committed to increasing our clients' bottom line, but also to ensuring tenant satisfaction. Based on the needs of your location, Propark implements revenue strategies and develops customized tactics that streamline your operation.
For commercial locations, Propark drives business by utilizing the top parking management strategies, including yield management. In addition to the latest technology, we offer unique reporting capabilities that give insight into the most recent trends in the industry. By optimizing your space count and increasing your bottom line, Propark helps commercial parking locations thrive in Jersey City and across the country.
Propark Mobility is proud to serve a wide array of industries. From healthcare facilities and universities to stadiums and airports, our parking management services can help enhance operations at your location.
Find Jersey City Parking Near Liberty State Park & More
Located along the Hudson River, Jersey City features a variety of attractions. To get you near your favorite destinations, Propark Mobility offers affordable and convenient parking in Jersey City.
With gorgeous views of New York City, Jersey City's many parks provide great outdoor fun for all. Enjoy the waterfront pier at J. Owen Grundy Park or stop by Van Vorst Park, located in a historic district of Jersey City.
Liberty State Park features beautiful views of the Statue of Liberty and Ellis Island. You can even delve into the rich history of Ellis Island by visiting sites like the Central Railroad of New Jersey Terminal.
Looking for indoor activities? Visit the Liberty Science Center or spend the day at the Museum of Russian Art.
If you're interested in live entertainment, attend a show at the Landmark Loew's Jersey Theatre, the Jersey City Theater Center, or the newly restored White Eagle Hall. Propark's locations throughout the city ensure you can easily find parking near the theater of your choice.
For the best shopping in Hudson County, visit the Newport Centre. Located within the Newport Hudson Waterfront Community, this three-level indoor mall offers a premier shopping experience.
No visit to Jersey City is complete without a stop at the historic Colgate Clock. Built in 1924, this clock – one of the biggest timekeepers in the world – once sat atop Jersey City's former Colgate factory. A fixture of the Jersey City waterfront for nearly 100 years, the Colgate Clock now resides near the Goldman Sachs building.
From the historic district to the Waterfront, Propark Mobility's locations offer convenient and affordable parking in Jersey City to get you near your destination.